What is the most critical aspect of growth and sustainability for a business? Its continuous generation of high quality leads. For this reason, every business needs a well-executed lead generation process.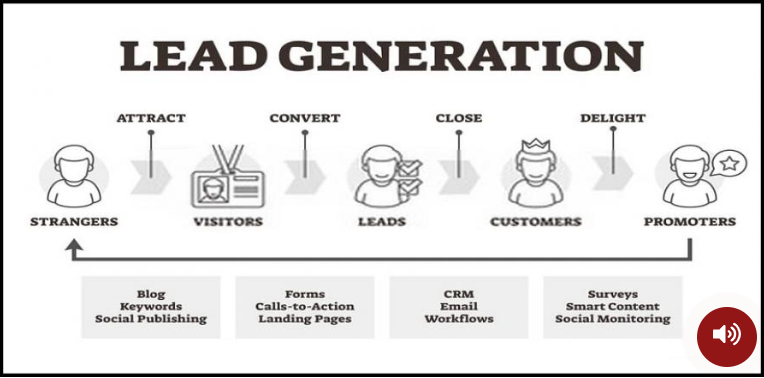 Source: Montdigital
Why is lead generation important?
It is crucial for the growth of your business. Effective lead generation proves helpful in driving sales, fostering brand loyalty, and expanding market reach. The lead generation process was limited to a few techniques and lead generation tools in the past.
Now, things have changed dramatically with the surge of digital media. Now you have thousands of options for B2B lead gen and turn these leads into customers. It doesn't mean that B2B lead gen is easy. Still, the lead generation process is a top challenge for every business because of the growing competition in the market.
So, how do you generate leads for the success of your business?
Don't worry because you only need expert advice and a strategic approach. We are here to help you identify and nurture potential customers. Remember, you need customers with a genuine interest in your products and services. Let's explore a comprehensive lead generation process to set up your business for success.
Types of Lead Generation to Get Marketing Qualified Leads
Lead generation is a necessary process that involves various methods and strategies to generate sales leads. You can choose a suitable method based on your target audience, business goal, and industry. Here are some of the most common and effective types for generating leads: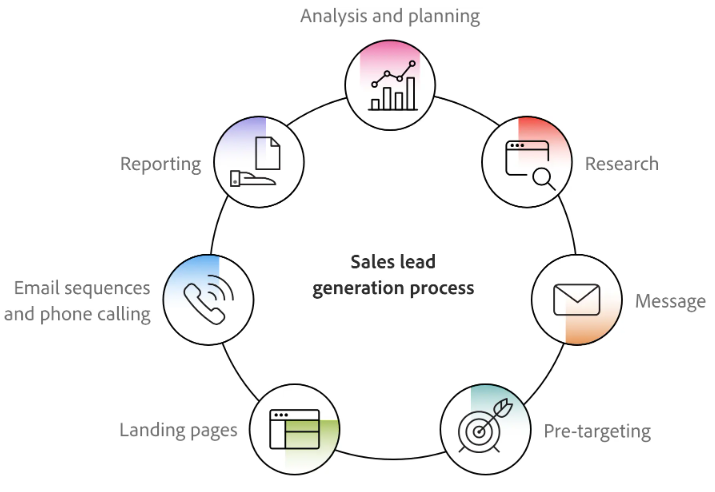 Source: business.adobe.com
Inbound Marketing for Generating Leads
Inbound marketing is an organic and less intrusive way to generate inbound leads. It requires you to attract potential customers through valuable content. The two critical components of this b2b lead gen approach are SEO (search engine optimization) and content marketing.
Content Marketing involves creating and distributing valuable content to attract the target audience. This content may take various forms, including blog posts, eBooks, webinars, and videos.
SEO involves optimizing your website and its content. It is necessary to rank it higher on search engine results pages. Its critical aspects involve on-page SEO, off-page SEO, content optimization, and keyword research.
Outbound Marketing Strategies to Get Sales Qualified Leads
For b2b lead gen, outbound marketing is a proactive approach where businesses initiate contact with target customers. Your sales and marketing teams must reach a predefined audience with marketing messages and offers. It can increase the success probability of your lead generation process. See the elements of outbound marketing:
Email Marketing: An essential part of digital marketing is sending targeted emails to your potential and warm leads. These are people who are interested in your products or services.
Cold Calling: It is an important part of the lead generation process to reach out to prospects via phone calls to introduce your offerings and identify prospective leads.
Direct Mail: In this method, you can send physical marketing materials like brochures or postcards to a list of sales ready leads and existing leads.
Social Media Marketing
Your lead generation process is incomplete without social media platforms because it allows you to reach and engage with a broad and diverse audience. See how social media marketing (SMM) works:
Advertising: Use social platforms like Twitter, LinkedIn, Instagram, and Facebook to run targeted ad campaigns to attract leads.
Engagement: Engage with your audience on social channels by sharing valuable content. Plus, you can interact with comments and messages.
To grab the attention of your target customers, offer lead magnets in the form of valuable incentives or resources. Some famous lead magnets include eBooks, discounts, or templates in exchange for a visitor's contact information on your website.
Step-by-Step Lead Generation Process: 5 Steps to Follow
A lead generation process involves well-defined steps of identifying and nurturing leads. All new leads go through a journey to be a part of your sales pipeline. In a customer journey, you should focus on the following:
Increase Awareness
Client Attraction
Pay Attention to Outreach
Lead Conversion
Close with Qualifying Leads
It is not easy to get a sales qualified lead. Since each stage in the lead generation process requires you to focus on different steps. And nurture new and existing customers in your lead generation funnel. To ensure the best results, you should follow the following stages in the sales lead generation process:
Step 01: Identify Your Ideal Audience
Before you get started with B2B lead gen, you should know who you are trying to reach. Create a detailed buyer persona that outlines the demographics, pain points, interests, and online behavior of your ideal customers.
Ask your marketing and sales teams to create a buyer persona. Wondering why you need a buyer persona?
It helps you define an ideal customer for your product or service. You need the following information for the success of the lead generation process:
How many leads do you have?
Job titles of your potential customers.
Their favorite social media channel for information.
What pain points or concerns do your ideal customers have?
What solution do you offer them?
What are the barriers to doing business?
You may need multiple personas if your products and services are for different buyers. After having a list of ideal buyers, you can create customized content for every customer.
Step 02: Choose a Lead Generation Strategy
Now you know who is your ideal customer. So what is next?
It is time to find a solution for b2b lead gen. Keep in mind that there is no one-size-fits-all solution for sales. You need a customized approach for generating high quality leads. Many strategies and tools are available to catch the interest of your ideal customers.
You can drive customer's interest through lead generation work, such as valuable content, SEO, cold calls, paid advertising, community building, etc. Design a landing page to publish new website pages. In fact, you need customized landing pages to capture leads.
Many software tools are available for lead generation and lead management. So, focus on your customer personas while selecting the best lead generation strategies. Always be prepared to refine your strategy for a solid lead generation process.
Step 03: Guide Customer with Lead Generation Strategies
It is an essential aspect of the lead generation process. This involves systematic data collection and engagement with potential leads in a strategic manner. As you start interacting with quality leads, it is vital to evaluate how they want to buy. You should understand what is the right stage in their buying process:
Awareness Stage
In this stage, a potential customer recognizes they have a problem that needs a solution. They may perform web searches to download a white paper or read blog posts. It is the stage where your customers will learn about your brand.
Consideration Stage
Once a buyer has a clear picture of their problems and possible solutions, they will reach the consideration stage. They start evaluating possible products and services. At the moment, they are not ready to make a purchase.
Decision Stage
In this phase, a customer will do their research. Your leads are really close to conversion. They will meet with vendors, book memos, and check in with other decision makers. Indeed, it is an essential phase.
So, determine which phase leads are in. It will help you focus on your lead generation efforts differently. Keep in mind that the awareness phase is necessary. You should create targeted content for your lead generation campaign. In this way, you can guide your prospects in making a decision. A free trial or product demo can be an effective lead magnet for your prospects.
If you are overwhelmed due to the number of leads in your sales funnel, you can assign value to every lead. And focus on a quality lead with the highest value who is near to converting, not all leads. It will help you improve lead quality.
Step 04: Lead Profiling
It is another essential aspect of the lead generation process. This involves the systematic gathering of data and engaging with potential leads. Here is an overview of lead profiling in the b2b lead gen process:
Data Collection: Ask your sales team to gather information about potential leads. It may include age, gender, location, firmographics (size of company and industry) and behavioral data (content consumption, past interaction with your brand, and online activity). You need this information for b2b lead gen.
Segmentation: It is an important part of the lead generation process. You should organize leads based on shared characteristics, interests, and behavior. This segment can help you tailor outreach efforts for maximum relevance.
Lead Scoring: Follow a lead scoring system to score leads based on their engagement and fit with your ideal customer profile. Higher scores indicate hot leads that are ready to convert.
Behavior Tracking: Consistently monitor how leads interact with your website and content. Track behaviors like email options, page visitors, and lead generation form submissions. These may provide insights into their level of interest.
Step 05: Lead Generation Outreach
For better outreach in the lead generation process, you should pay attention to the following:
Pay attention to the most effective communication channel to reach your leads. You can use email, phone calls, direct mail, or social media.
Craft personalized content and messages for your b2b lead gen. You can segment each lead based on their pain points, interests, and specific needs.
Use a combination of channels to engage leads. For example, a phone call or a personalized LinkedIn message can empower the lead generation process.
Choose optimal times to send messages and improve your outreach efforts. You can consider past interaction history and time zones of leads.
Implement a lead nurturing strategy to guide leads through the buyer's journey. Create content that provides value and answer questions to build trust over time.
A marketing sales feedback loop is important to encourage leads to respond to your outreach. With this information, you can refine your messaging and improve your approach.
Consistently track the performance of your outreach efforts. Monitor response rates, open rates, and conversion rates to evaluate the effectiveness of your strategy.
You can streamline the outreach process with marketing automation tools. These tools enable you to schedule follow-ups and maintain consistency in your communication.
When leads show buying signals and meet particular qualification criteria, smoothly transfer them to your marketing team. You can improve engagement and customer loyalty with customer relationship management.
In short, lead profiling and outreach enable you to establish meaningful connections with paying customers. You can nurture their interest and guide them to become loyal customers.
Conclusion
With b2b lead gen, companies can acquire new clients or customers within a particular business sector. It offers many key benefits that contribute to the growth and success of your business. It can directly lead to increased sales and revenue.
There is a simple formula. Identify clients interested in your product or service, target them, and increase their chances of converting into paying customers.
In the first step, you need a user-friendly and mobile-responsive website optimized for SEO. Produce high-quality content to attract and engage potential leads.
With the use of LinkedIn, Instagram, Facebook, and Twitter, you can run targeted ad campaigns and engage with potential leads. For surprising outcomes of your campaigns, regularly monitor key metrics like click-through rates, conversion rates, and lead quality.
Remember, lead generation campaigns are measurable. You can track and analyze lead generation metrics to comprehensively overview your strategy. The lead generation process is about creating the interest of leads in your product or service. To increase awareness of your leads, you need dedicated landing pages.
You can add b2b lead gen forms on landing pages to gather necessary information. Moreover, identify and attract potential customers to a landing page during the online lead generation process. Use different strategies and channels for lead generation.
All these efforts will help you throughout the lead generation process, leading to business growth and profitability.